{{ timeAgo('2021-02-23 08:32:26 -0600') }}
football
Edit
Bill introduced that could ban transgenders from girls' sports in Arkansas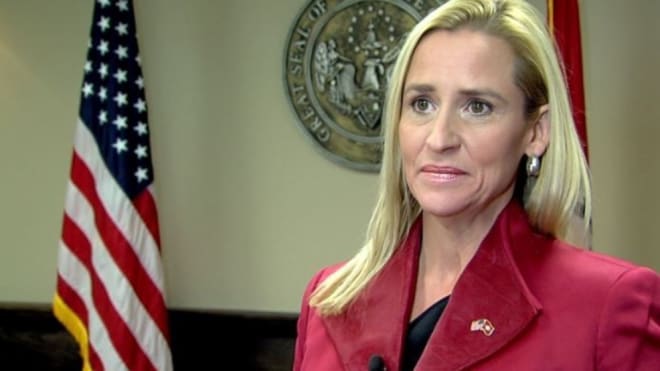 Arkansas Attorney General Leslie Rutledge announced Monday that legislation is being proposed that would ban transgender athletes from playing on girls' sports teams in Arkansas.
Rutledge said that this proposed legislation comes after President Joe Biden issues an executive order aimed at combating discrimination based on gender identity and sexual orientation.
That executive order was issued on January 20.
At a press conference Monday, Rutledge said that Biden's order hurts female athletes, and the legislation known as the Gender Integrity Reinforcement Legislation for Sports Act (GIRLS) would make it illegal for any student-athlete who are identified as a male on their birth certificate to play on any girl's teams.
"I want to send a strong message to President Biden and his administration that here in Arkansas, we intend to require schools to prohibit biological boys who self-identify as girls onto girls' sports teams," said Rutledge
The proposed bill cites chromosomal, hormonal and physiological differences between male and female sexes.
If the bill passes it will apply to all K-12 schools, colleges and universities who receive state funding, and any entity that receives membership fees or other funds from state funded schools.
If the bill passes it will allow the attorney general to sue any school that violates the bill and ban them from receiving funds from a public source for one year.
"It will create equal and fair competition by limiting girls' and women's sports to girls and women, as evidenced by an original birth certificate," said Rutledge. "We don't want common sense to be shadowed by so-called political correctness."
Arkansas state Sen. Missy Irvin, (R-Mountain View), and Rep. DeAnn Vaught, (R-Horatio), said they will sponsor the bill.


-------------------------------------------------------------------
If you are not an ArkansasVarsity.com subscriber, you can become one by CLICKING HERE. It costs less than a cup of coffee per day to get access to the most in prep sports and recruiting information anywhere in the state.
Want to become a partner with ArkansasVarsity.com? Email Luke Matheson at Luke@ArkansasVarsity.com
FOLLOW US ON TWITTER: @LUKEMATHESON - @JEFFSAVAGEIV - @ARKANSASVARSITY