2021 Arkansas HSFB All-Star Teams Announced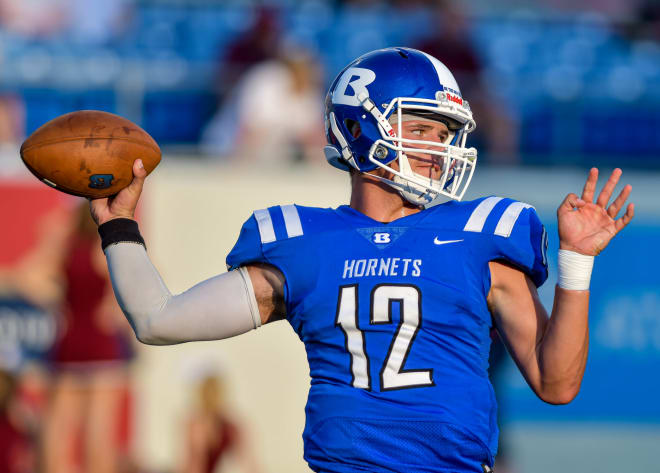 The Arkansas Activities Association announced the 2021 All-Star football teams for Arkansas on Wednesday.
The coaches were nominated by their conference and elected by a vote of their peers. The All-Star Coaches selected their teams from players nominated by their conference. These coaches and student athletes are added to a prestigious list of high school coaches and athletes selected as All-Stars in past years.
Due to COVID-19 concerns the 2021 All-Star Week and High School Coaches Clinic at the University of Central Arkansas have been cancelled. While we are disappointed AHSCA will not be able to host the campers and play the games in June, this should not diminish from the accomplishments of the coaches and student athletes during the 2020-2021 school year and their high school careers. Congratulations to each All-Star Coach and Athlete.
You can view the teams below.
CLICK HERE TO TRY ARKANSASVARSITY.COM FREE FOR 60 DAYS!
EAST ARKANSAS ALL STAR FOOTBALL TEAM
Justin Lewaller Batesville
Eli Livingston Batesville
Austin Ledbetter Bryant
Hayden Schrader Bryant
Noah Perry Catholic
Cole Shoemaker Central Arkansas Christian
Ben Weese Conway
Jayden Williams Conway
Daeshawn Mars Cross County
Eyan Holloway Des Arc
Luke Morton Des Arc
Prince Okojie Dollarway
John Stanley Hill Dumas
Kylin James Dumas
Preston Rains East Poinsett County
Dave Carruth El Dorado
Ja'Quez Cross Fordyce
Josh Harrington Fordyce
David Williams Greene County Tech
Ty Dugger Harding Academy
Caden Sipe Harding Academy
Daylon Powell Hoxie
Shun Derrick Powell Hoxie
Mario Avant Jonesboro
Will Barro Jonesboro
Corey Platt Little Rock Christian
Connor Whipple Little Rock Christian
Tajiri Ellis Marion
Jordan Owens McGehee
Kyson Conley Piggott
Bradley Clark Pine Bluff
Trace Hawkins Pulaski Academy
Futa Shinkawa Pulaski Academy
Keshawn Scott Rivercrest
Kamron Turner Rivercrest
Darius Brown Salem
Peyton Edwards Sheridan
Justin Randall Southwest
Collier Bush Stuttgart
Taevion Cunningham Sylvan Hills
Amarion Watson Sylvan Hills
Aedan Huntsman Valley View
Dennis Dallas West Memphis
Cam Robinson White Hall
Cam'Ron Holmes Wynne
Terry Wells Wynne
MANAGERS
Jace Benesch, Hoxie
Cade Forrester, Hoxie
HEAD COACH
Tom Sears, Hoxie
ASSISTANT COACHES
Johnny Fleming, Rivercrest
Chris Hill, Sylvan Hills
Billy Paschal, Des Arc
Van Paschal, Wynne
Cole Sears, Hoxie
WEST ARKANSAS ALL STAR FOOTBALL TEAM
Garrett Brown Benton
Keegan Stinesprings Bentonville
Logan Turner Bentonville
Stephen Dyson Bentonville West
Sebastian Martinez Bigelow
Jarrett Mitchell Booneville
Matthew Pouncil Camden Fairview
Tyre Tatum Camden Fairview
Dalton Curtis Charleston
Austin Hanson Dierks
Cody Hix Fayetteville
Caleb Kegley Foreman
Jayden Jasna Greenwood
Braden Stein Greenwood
Armando Harper Gurdon
Jameson Threadgill Gurdon
Lane Johnson Harrison
Cole Keylon Harrison
Kaimani Gray Hot Springs
Izaih Clenney Lake Hamilton
Logan White Lakeside Hot Springs
Dayton Davis Lincoln
Kobe Faughn Magazine
Mason Brotherton Mena
Couy House Mena
Caimen Fitzpatrick Morrilton
Jackson Moll Morrilton
Dalton Brown Nashville
LD Hendricks Nashville
Lawson Jackson Ozark
Jimmy Dikeman Paris
Michael Erickson Pea Ridge
Lathan Aaron Poyen
Gunnar Caudle Praire Grove
Jacobi Nolen Prescott
Jeffrey Williams Prescott
James Jordan Robinson
Hunter Smith Robinson
Caleb Gray Russellville
Jared Clark Siloam Springs
Sam Widener Shiloh Christian
Shawn Rogers Southside
Andre Sparks Springdale
Torie Blair Texarkana
Tylee Green Texarkana
Jaiden Henry Van Buren
MANAGERS
Luke Brewer, Greenwood
Parker Gill, Greenwood
HEAD COACH
Chris Young, Greenwood
ASSISTANT COACHES
Craig Bentley, Mena
Khris Buckner, Clarksville
Jody Grant, Bentonville
Kyle Jackson, Gurdon
Ricky May, Charleston
Jason Gill, Greenwood



-------------------------------------------------------------------
If you are not an ArkansasVarsity.com subscriber, you can become one by CLICKING HERE. It costs less than a cup of coffee per day to get access to the most in prep sports and recruiting information anywhere in the state.
Want to become a partner with ArkansasVarsity.com? Email Luke Matheson at Luke@ArkansasVarsity.com
FOLLOW US ON TWITTER: @LUKEMATHESON - @ARKANSASVARSITY